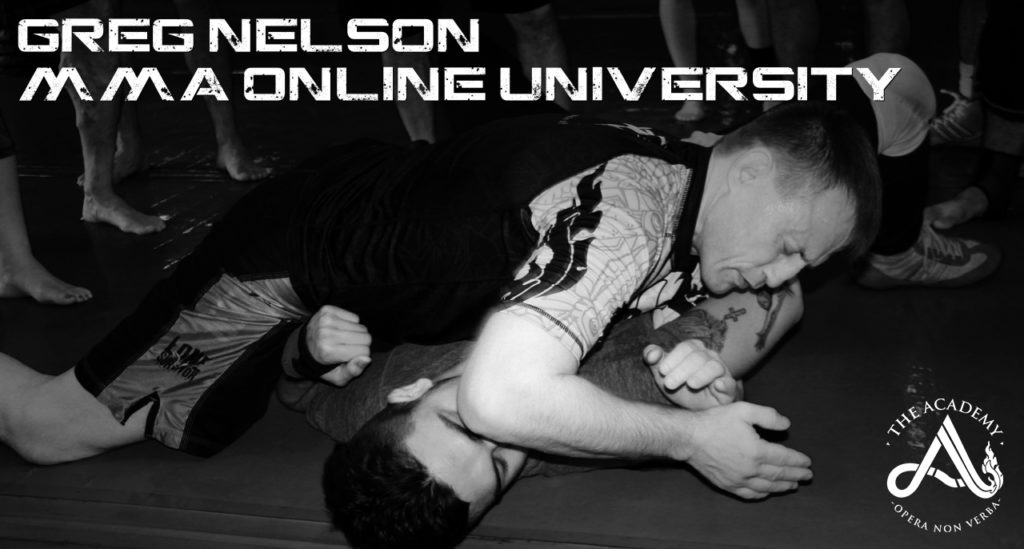 Learn from one of the best martial arts coaches in the business!
Academy Head Coach Greg Nelson has his roots in athletic training and competition. Mr. Nelson is a former University of Minnesota Wrestling Team member and an All-American high school gymnast. In 1983 he started training in the Jun Fan Martial Arts, Filipino Kali and Muay Thai under Sifu Rick Faye. Since then he has earned Full Instructor credentials in Jun Fan Martial Arts/Jeet Kune Do Concepts, Filipino Kali, and Level III Instructor in Maphilindo Silat under the legendary Guru Dan Inosanto. Mr. Nelson is also a Senior Instructor in Muay Thai under Grand Master Surachai "Chai" Sirisute of the Thai Boxing Association of the USA. A grappler at heart, Nelson earned the level of Advanced Student in Shoot Wrestling under Sensei Yurinaga Nakamura, and a certified Full Instructor in Combat Submission Wrestling (CSW) under Erik Paulson. Greg started his Brazilian Jiu Jitsu journey in 1989 taking a private under Master Rickson Gracie. In 1996 he became formal a student of 8th degree Red & Black Belt Professor Pedro Sauer. Professor Sauer awarded Mr. Nelson as his first Black Belt in November 2002. Currently, he is a 3rd degree Black Belt and is the highest-ranking Brazilian Jiu Jitsu black belt in the state of Minnesota
On a competitive level he has put his skills to the test. After graduating college in 1989, Nelson traveled to Thailand to train Muay Thai with some of the worlds best. In 1992 he again went to Thailand and this trip gave him the urge to compete. In the summer of 1993 he fought his first Muay Thai fight in Chicago IL and again 1995 internationally in Winnipeg Canada. In 1994 he fought in Amateur Shooto (MMA) in LA. In 1999 he put on the gi and won a Gold Medal in Blue Belt Masters in Brazilian Jiu Jitsu at the IBJJF Pan-American Championships. The following year Mr. Nelson won a Silver Medal in Purple Belt Masters at the 2000 IBJJF Pan-American Championships. He competed in one more IBJJF Pan-American Championships in 2001 and then won three Gold Medals in the 2001 LA Grappling Games.
Mr. Nelson is well known as one of the best Mixed Martial Arts coaches in the sport & is in high demand worldwide for seminars and specialized workshops. He spends much of his time researching and developing techniques and training methods to build The Academy fight teams. As a coach, he has developed numerous world champions in both MMA and Muay Thai, Mr. Nelson and the Academy team have produced numerous other international, national, & state championship competitors and medal winners in professional and amateur Muay Thai & sport Brazilian Jiu Jitsu/ submission grappling. The Academy fighters hold victories in all of the major fight organizations worldwide; including the UFC, WEC, Pride Bushido, EliteXC, Strikeforce, SengokuWVR, BodogFIGHT, Shooto, King of the Cage, Super Brawl, Hook-N-Shoot, Prince's Cup Thailand, Sanshou Championships in Beijing China, All-Osaka Shoot Boxing Championships in Osaka, Japan and many more. Mr. Nelson and the Academy Team have produced three UFC Champions at 3 different weight classes. These include Dave Menne, the 1st Middleweight UFC World Champion, Sean Sherk Lightweight the 2nd UFC World Champion, and Brock Lesnar Heavyweight UFC World Champion. He holds the rare distinction in the MMA world of training them from the beginning of their fight careers to their title fights.
Over the years Mr. Nelson has taught defensive tactics to a wide variety of law enforcement and military personnel. He has created training programs for local, state, and federal law enforcement including the FBI, DEA, and Federal Air Marshals. Currently, Mr. Nelson works extensively with various branches of the US military. In 2010 he coached the Minnesota National Guard Combatives team at the All Army Combatives Tournament in Ft. Benning GA. He has assisted in the development of the Army Combatives Field Manual FM 31-25.150 and is a civilian member of the Modern Army Combatives Committee aimed at improving the effectiveness and efficiency of the Modern Army Combatives Program. In addition, Mr. Nelson is a combatives consultant for classified U.S. Army Special Forces units, the 75th Ranger Battalion, the US Army Combatives School Instructors and the Naval Special Warfare Development Group (SEAL Team 6). Mr. Nelson is very proud to be one of the few civilians selected to work with the military and the soldiers that make our country safe.
Most importantly, Mr. Nelson is a father of a daughter and son. In addition, he is a 2 time cancer survivor, first beating non-hodgkin's lymphoma and secondly surviving a rare form of nerve cancer called neurolymphomatosis. According to the Mayo Clinic, he was the first known survivor of this cancer and his case has played an instrumental role in the treatment of this rare disease.
Awards
Black Belt Muay Thai 6th Degree (Ajarn)
Black Belt Gracie Jiu Jitsu 4th Deg.
Super Coach Combat Submission Wrestling
Full Instructor Inosanto Kali
Full Instructor Jeet Kune Do
NCAA Division 1 Wrestler University of Minnesota
IBJJF Pan American Champion 1999, Silver in 2000, LA Grappling Games Champion Gi and No Gi 2001